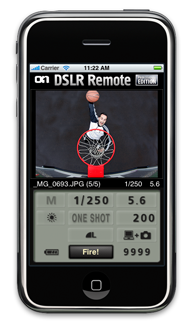 If you are a professional Photographer you understand that being behind your camera is not always the best way to control your shoot.
Well with onOne Software for the IPod Touch or IPhone you can now control your camera remotely with a preview.
Not only can you control the firing of your camera but you can adjust the settings of your camera. But the best thing is you can do it all without wires…
Simply connect your camera to a laptop or other computer with a WiFi card and the onOne software will connect to your camera and control it remotely.
This software supports Cannon's EOS SLR group of cameras and not every feature is available on every model.
Cannon EOS SLRs start at about $800 minus a lens for a 10mpixel camera and $8,000 for their 21 Mpixel EOS-1Ds Mark III camera.
For more info on cannon Digital SLRs
http://www.usa.canon.com/consumer/controller?act=ProductCatIndexAct&fcategoryid=111
For more info on onOne Software to control your camera