Maintaining your website and all of your Social Network accounts can be difficult and time consuming.
The amount of time it takes to write announcements or sales notices to the blog portion of your website then cross post that information to Twitter and Facebook can amount to hours of time not serving your customers.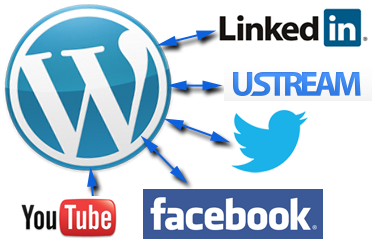 With a series of plugins for WordPress JumboClicks.com's staff are able to setup connections between your accounts so the process happens automatically with one click.
Your posts will be announced when published but you can also display your Tweets on your website with a sidebar widget or in a collection of posts in a specific category.
Additionally we can setup "Like" and "Follow" buttons so your website visitors can connect to you from your website or announce a page that they like to the rest of their followers.
If your company likes to post videos to YouTube we can create a connection from your WordPress account that will Automatically grab any new videos you upload and display them on your website in an appropriate category. You can also embed videos in your pages and posts to add information and attract visitors to your website.
Drawing traffic to your website means people know about your business and you benefit from word of mouth advertising.
Each customer will have specific needs and functionality is always improving.
If you are interested in connecting your Social Networks to your WordPress based Website please contact us for specific pricing and availability.
Prices start at just $75*
* includes setup of social network button bar when purchased with a
full website design package