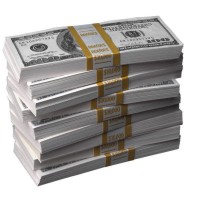 When starting an online presence for your business there are a number of ways that you can approach your Advertising Strategy.
If what you sell is a service or a product that is marketed to a local geographic region such as a restaurant, medical or professional service then advertising through ppc or ppv banners is probably your best bet. Most banner advertising businesses now provide GeoIP services that can restrict the display of your ads to a specific area and only display when relative terms are found on the page your potential customer is viewing.
If you are a national chain or able to sell your products or services to anyone on the internet your strategy expands quite a bit. Your business is more likely to split your campaigns between traditional banner and link ads and affiliate marketing that pays after a customer clicks through and completes a purchase.
However in the first example the business is overlooking the ability to use affiliates that may be able to fulfill their need while at the same time expanding their brand name visibility.
In other HowTos we will expand the correct method of online marketing based on specific examples but before you jump right in and purchase a group of ads that have little or no return you should plan your strategy for best results.
1) Who will manage your affiliate / advertising program. Will you hire out the service or contact and manage your campaigns in house?
2) Is your program continuous or seasonal? Will you need a marketing calendar that showcases product for short periods of time. Clothing lines are seasonal but so are hardware products and even restaurant offerings.
3) Will your program market through any available website or will you restrict your affiliates based on certain criteria. Often it is useful to limit who can market your program but this will mean longer approval times and constant reviews over time.
4) Will you mirror or supplement your traditional ads? Often it can be an advantage for your affiliates if the items that you market though your program are limited offers. Many affiliates attract their own group of visitors based on offers only they can provide. If your brick and mortar advertising is mirrored in your online affiliate advertising then you may fail to attract supplemental sales. Additionally your affiliates may not be enthusiastic about marketing your offers.
5) Budget and Payback Period considerations. You should understand that you can dump a ton of money in a short period of time and attract very few customers or you can put too little into your campaign and never reach potential sales. If a program or method of marketing is not paying you back then you must set a time that a review process is implemented. The higher your payout the shorter the time period between reviews.
These five considerations are a beginning for any business deciding to jump into advertising and affiliate programs.
You must understand how much time it takes to manage your marketing program and you may never know that until you are deep into it.
The amount of effort you put into research will pay off in hours and money not lost to misdirected programs that are not paying for themselves let alone bringing in new customers.
In up coming HowTos we will examine Affiliate Marketing and planing in more detail including Social Networking and other options to increase sales and traffic.