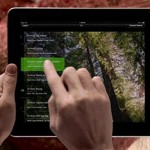 Time Warner Cable has just introduced a new iPad App that allows their customers to view live tv on their iPads.  The approach they took was that this distribution method was within the rights they purchased to broadcast the dozens of TV networks that customers normally view on their televisions however without asking permission before they released the service some companies say it is a violation of their contracts.
Already a handful of networks have required Time Warner to stop broadcasting through their iPad App and many others are reviewing this new method of distribution.
So, how does this new app work?
It seems that any iPad customer can download the app but they will need to be a subscriber to Time Warner Cable and use their password to access its functions. Additionally the customer's must have a cable modem that is part of the Time Warner network and install a wireless router to give the iPad a connection through the cable modem. This means that although you can walk around your home and maybe out to the pool you can't take your iPad on the road or even to a friends home that has a time warner cable modem and get connected.  The network must be routed through the subscribers own modem.
With all of these restrictions you might consider the iPad app routed through the customer's cable modem as nothing more then someone buying a Tivo or a Cable Card ready Television and hooking it up to the Time Warner feed however distribution of television is different then distribution of network traffic.
When you use a cable modem to identify the traffic this can limit the device from operating outside of the customers home and if you do not consider that some savi hacker is already working on ways to setup a proxy allowing the iPad to connect to the customers home from anywhere well this may be sufficient.
On the other hand with Hulu.com Amazon the Apple Store and other methods of viewing video online including pay and free this new service is likely to cut more harshly into Apple's revenue then any Network or cable companies revenue.
So right now the word is still out on whether Time Warner faces any prosecution for its distribution method but it is something to keep in the back of your mind..
Approximately 300,000 people have already downloaded the App.
The following channels have been removed:
Animal Planet, BET, CMT, Comedy Central, Discovery Channel, FX, MTV, National Geographic, Nickelodeon, Spike,VH1
These Channels seem to be available at the moment:
A&E
C-SPAN3
HGTV
QVC
ABC Family
Disney Channel
History
Sleuth
AMC
Disney XD
HLN
SOAPnet
Bravo
E!
HSN
Style
Chiller
ESPNews
IFC
SyFy
CNBC
Food Network
Jewelry TV
Travel Channel
CNBC World
G4
Lifetime Movie Network
USA
CNN
Galavision
MSNBC
WE
C-SPAN
Golf Channel
NY1 Manhattan
YNN Austin
C-SPAN2
Hallmark Channel
NY1 Noticias