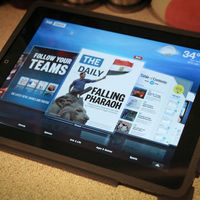 Well you have probably heard of Rupert Murdoch in relation to his ownership of Fox and you may also know he owns both the NY Post the Wallstreet Journal and a hand full of other news outlets including the parent company News Corporation but he is hoping his newest venture into news distribution is worth your 15 cents.
The Daily a new tablet based news application that distributes rich media news for 99 cents a week or $39.99 a year. You get a 2 week trial to test if you like it enough to continue which isn't so bad and the AP is distributed through the iTunes Store.
From what his conference disclosed the iPad is not the only tablet he wants to be on and he expects that there will be 100 million units of tablet based PCs in the next few years allowing him to bridge the transition from paper based news and put his content right in your hands.
Many people have been asking will people actually pay for news especially if they need to connect to the internet to access paid content.
Well that really needs to be seen but look how many people purchase music online when you can listen to it free on YouTube and dozens of other legal sites.
Since iPads and Tablets are still a luxury and not quite yet a replacement for laptops The Daily will have an audience that is willing to kick in a little cash for some decent content. However by the time units are in most homes there will definitely be viable competition.
The question really is not if people will want to see the content but if they are willing to pay.
Anyway this is something we all need to take a look at.
www.thedaily.com