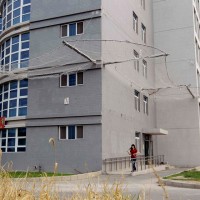 Apple contractor Foxconn has got the go ahead to ramp up production of the new iPad2 for distribution in February / April 2011.
If you don't recognize Foxconn as a pc hardware manufacturer maybe you remember the reports of mass suicides that prompted the company to install nets around its building.
Within the next 100 days Foxconn is expected to produce between 400,000 and 600,000 units of the iPad2 no word yet on the expected number of suicides that the company is expecting.
The new iPad2 will feature a front facing camera for video chat and a upgraded wireless chip allowing them to connect on CDMA and GSM networks. Word is still out on which type of display will be featured but the retina display used in iPhones is expected to ship on these new versions.
Good luck to you Foxconn employees.