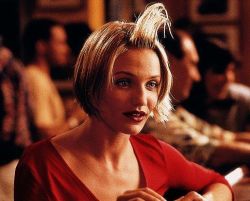 A new report by the McAfee Virus Team announced that Cameron Diaz is the Most Infected Star on the Internet. Unlike Pamela Anderson they weren't talking STDs… the study examined the number of files mostly screen savers and media like that are downloaded and found that the person's image who was most linked to malware infections was Cameron Diaz…
Well maybe its better then being infected in real life but when you are looking for a hottie to put on your desktop many users aren't considering they can catch something from it other then some mild chafing or redness.
So, what does this mean?
Don't download crap from sites that don't verify the content.
If you want a desktop image go to Google Images and search for an exact size image that fits your desktop or a large one that you can modify in a basic image editor. If you want a screen saver there are a lot of them from reputable sources or use the built in features of your operating system.
Personally I never liked desktop backgrounds because I tend to be messy with my folders and with windows open all the time there isn't much chance I will be seeing it… add to that the fact that all the added garbage of os themes tend to slow your computer down a lot. Today you might not notice it with a six core processor but back when I was using a 486 and windows 3, 95, nt… you could really feel the difference.
So, why did these fools pick Cameron Diaz to distribute their garbage? Who knows maybe they like her or maybe they don't like the people that like her… or maybe they had nothing better to do …. the scary thing might be that they were targeting a specific person and to get access to their computer at the Department of Defense they flooded the internet with millions of files…
Could happen… you never know