The process of moving from the free WordPress.com website to your own self hosted or paid hosted site is a pretty easy process.
Depending on your Website host you may be provided with everything you need in one place but if not we have you covered there too.
Domain Name
The first thing you need to do is decide on a Domain Name. Yes along with hosting which is a monthly or yearly fee you will also need to provide your own domain name so people can find your site.
It is important that you decide on a domain name and make sure it is available before you purchase your Website Hosting account.  The website host will ask you for the domain name that you will be using during your site setup.
Many website hosts do provide domain names with your hosting and some actually give you one or more free domain names included in your hosting fee if you signup for a year. The only drawback of getting your domain name from your website host is that you don't know how good the hosting is and how long you will stay with them AND they may actually charge you a little more per year or even double or triple the cost of getting your domain from someone like GoDaddy.com with a discount coupon.
Once you have your domain name selected don't tell anyone until you buy it…. a good name is hard to find and it is likely to be taken if you talk about it a lot on open forms or in chats.
You may even have a domain that you purchased for your WordPress.com account and you can use that. Although you may need to transfer the domain to another domain seller to allow you full access to DNS Settings.
Getting Your Hosting Account
Now that you have your domain and you have content on WordPress.com that you want to transfer some place you need a website host.
A hosting account provides you space for your files, database and software to run your site, email and other tools to run a full fledged website.
Different companies offer different packages and often selecting the very cheapest account is not in your best interest.
In the summer of 2010 when this was written you can expect to pay from $7 to $14 a month for a website package that will allow you to expand as your site grows. You can pay more if you need to but if your account offers the basic requirements for WordPress  and if this is your first self managed site I would suggest you look for these options.
cPanel control panel for site management
Apache, PHP, mySQL, Perl
Unlimited Domains
Unlimited Email
Unlimited Storage
Unlimited Data Transfer / Traffic
This is the basic minimum that you should look for. And when a hosting site says Unlimited it is not without strings meaning they can cancel your account if you start backing up your computer to your website… but it does separate them from a few website hosts that still only offer limited disk space and visitor traffic.
When you purchase a shared account instead of a server your transfer will be limited by the server's setup and ability.  This is not a drawback for most sites even larger ones.
Backup Your WordPress.com Account
Making an export of your WordPress.com posts and content is pretty simple.
Go to your Tools Menu and select Export and then click Download Export File.
Save the file in its own folder.
The Export File will contain information about your website name and configuration along with all of your pages and posts and other content.
It will not include image files but it will link to them especially if you had image links to other sites.
Setting Up Your WordPress Site
Once you have paid for your Domain Name and Hosting Account you should have received a URL in your Confirmation Email telling you where you can login to your Website Control Panel.
It should also provide information about accessing your site by FTP and setting up Email Accounts.
Before you setup WordPress you want to setup a Email address to use with your WordPress Site. If this is your first time and you find you have difficulty you can get by for now by entering your Gmail or Hotmail email address and then changing the password once WordPress is installed… and you can also make your own email account on your server after you have reviewed the help documents and change your website settings.
It is important you have a contact email because WordPress will email your Password to that account and any other important information such as when a user signs up for an account on your website.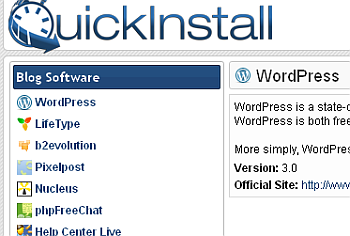 Ok, so you have an email address ready to go.
Login to your cPanel or website account control panel and there should be an Icon for installing applications in your account. You want to make sure you have at least WordPress 2.7 available for automatic install that way you can upgrade WordPress using your WordPress application automatically. Most hosts do not carry the very latest version for about a week or two after it is released.
Follow all the prompts and install WordPress.
Once you get to the part where you set your Password make sure you write it down.
Login to WordPress
Go to your Tools  menu and select Import.
Select WordPress as the format for importing.
Once your file is imported you will need to check that everything looks correct on your website.
Read a few full Posts.
If you want to keep the same theme that you had on WordPress.com for your Website Layout then you can visit the WordPress.org website and see if it is available..
WordPress 3.0 or later has the ability to install new Themes and Plugins automatically from within WordPress and there is no need to download the files to your computer then upload them to your Website Server but I would suggest that you make a local copy for editing and backup.
Final Thoughts
This HowTo did not explain every single step that you are likely to need to perform to get your website up and running but it is a General Explanation of what is necessary for first time website owners.
The steps above specifically ordering your Domain Name and getting your Hosting account will differ with each company that you work with but most companies are highly automated today and ordering a domain and getting setup should not take more then a couple hours.
Also remember that almost all the features you had on WordPress.com are available to you but you will need to manage them yourself.
It is very important that you are comfortable using WordPress prior to installing it yourself but with all the steps you have ahead of you your site should be up and running and looking good within just a few days.
After that it will be up to you to learn all of the advanced features of wordpress that can let you make your site exactly what you want.
Visit our other HowTos for details about specific features in WordPress and Website Management.