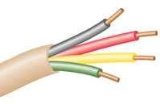 It was interesting to read this new government report that states 22.7% of U.S. households had no landline phone from January to June 2009 and the number of homes dropping hard wired phones is continuing to increase in 2010.
You have to wonder what the reason for this is. Could it be that they are no longer needed in many homes or is the cost of this additional bill resulting in disconnects during this weak economy?
Probably both situations factor into the decision for home owners to not own a landline phone.
Many younger people who live on their own find it useful to keep only a higher value iPhone or CrackBerry which they can be contacted on 24/7 and offer more features then a standard landline phone. In this instance the home owner doesn't place value in a hardline phone.
Social networking is one way to keep connected but VOIP services may be making an inroad when you consider that many people now have ready access to cable or fios internet broadband that can support VOIP services.
We have been looking at the MagicJack services which provides VOIP type services allowing you to make phone calls through a USB device. The drawback is that you need to dedicate an Always On computer to this type of service on the other hand Vonage and Comcast's VOIP service which is no better for the individual user costs as much in a month as you would pay for a $20 a year MagicJack USB device that you can also take with you.
The real break through will be when MagicJack offers its Local Hotspot service for Cellphones. When this service is available you will be able to plug the MagicJack into a USB port of a computer connected by broadband and then adjust your network settings on your Cellphone and make free calls or we expect use data services too.
This means you could take your MagicJack USB Device to work and get free cell calls at work too… or at a friends … or at school… or a restaurant could set one up.
On the other side of things you have people who have done away with their Hardline because of the expense and they are also using the least expensive often pay as you go cell phone plan.
Families do this because they need to restrict use of the phone only for emergency reasons but if mom or dad takes the phone with them and the kids don't have one this can be a dangerous situation.
In this case you should always make sure that 911 services are available by pluging in a phone and making sure the service works. The 911 service should work on any landline or any cell phone whether it is current with its bill or has had its general phone use disconnected.
So, whether its not being able to afford it or finding that it no longer meets your need it seems that many people are not getting that hardwire into their house… at least not for direct phone use.